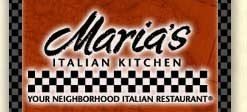 Today I decided that I would grab a bite to eat in my old stomping grounds in the San Fernando Valley.  After doing some mental research I had a strong feeling for Italian and remembered eating at Maria's Italian Kitchen numerous times growing up and from past recollections never left there hungry.
When I hear the name; "Maria's Italian Kitchen," I immediately think about Fried Calamari, the vast pizza and pasta selections, homemade bread and the Cleopatra salad with Chicken amongst other things.
Today I was greeted and taken care of by Nikki Schrader (Manager of Sherman Oaks Location) and was provided with wonderful warm personable service.  She made me feel like I was a part of the Maria's family and I instantly felt like I was transported to Little Italy in New York or in any other city for that matter.
Since it was lunch I wanted to try some menu items that I hadn't tried before.  I also noticed that the menu had been updated since my last visit to Maria's and now it includes new "half" portions of entrée items along with vast Happy Hour specials.
I was dining by myself today and had the craving for fried calamari. I also knew it would be too much to have Calamari Fritti and an entrée so I found the perfect compromise.  I ordered the "Crispy Calamari Caesar Salad Bowl" of the lunch menu and an order of Zucchini Fritti to start. The Zucchini came out first and the salad came out after.
As far as fried zucchini goes it was probably the best I have had.  The breading and texture was light.  There was no visible or greasiness to the zucchini sticks and they were not heavy.  I had to hold myself back from eating the rest because I knew my salad would soon arrive.  The salad was equally as good and the portion was generous.  It was a great twist on the classic Caesar salad and again was not greasy or overly filling. I washed down all of this homemade goodness with the house Passion Fruit iced Tea. It provided a lovely contrast and was a nice palette cleanser between bites and balanced out the salinity of the fried foods.
Maria's makes sure that you are taken care of and that you are provided with a quality product, family style atmosphere and provides amazing value.
I plan on visiting more often and checking out the Happy Hour.
When in Sherman Oaks, Dine at Maria's Italian Kitchen.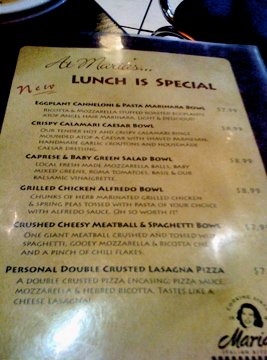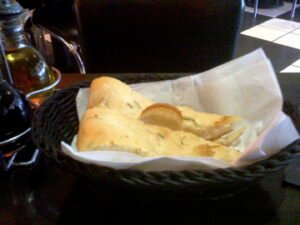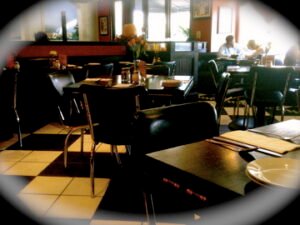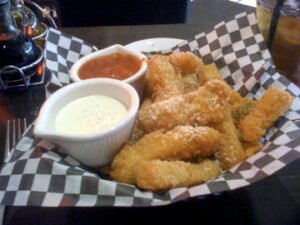 Various locations around Los Angeles.
Maria's Italian Kitchen-Sherman Oaks
13353 Ventura Blvd.
Sherman Oaks CA, 91423
(818) 906-0783
(818) 906-0816 fax
Hours:
Sun.-Thurs.: 11:30am – 10:00pm
Fri.-Sat.: 11:30am – 11:00pm
http://www.mariasitaliankitchen.com