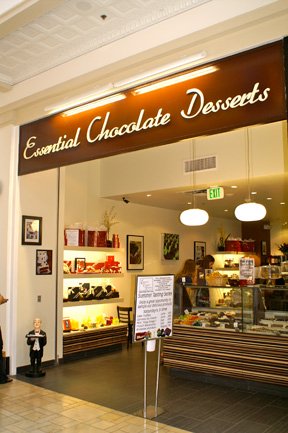 Essential Chocolate Desserts will make all of your ding dong fantasies come to life as they did with mine a few weeks back at their WestSide Pavillion retail location. Simply advertised as "A Ding Dong Tasting" to gourmands who follow Essential Chocolate Desserts, this particular monthly tasting event "sold-out" like its predecessors.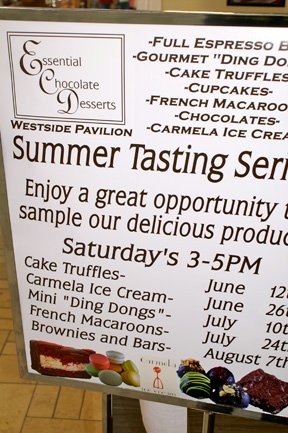 A modern version of the classic snack cake takes ding dongs to the upper echelon of the gourmet hand-held pastry world. With today bakeries and patisseries finding it difficult to fill the demand for innovative cakes and decadent treats as America's sweet tooth aches for the next best thing; E-C-D is constantly evolving and this local Los Angeles company strives to be steps ahead of its confectionery competition and dessert trends here in Los Angeles.


Intro:
So you may be asking yourself, what exactly is a ding dong?
Simply put, to summarize Wikipedia, a A Ding Dong is a a 3 inch round chocolate cream filled moist snack cake encased in a chocolate glaze and commonly packaged in shinny foil.
The first Dong Dongs date back as far as the 1930's and the original mass produced cakes were distributed by hostess in the 1960s.'
Now that you know the basis and understand the ding dong as a vehicle for confectionery consumption you will appreciate how Essential Chocolate Desserts puts their touch on this classic treat. Their hand-held cake now takes a S-Q-U-A-R-E form and is available in assorted flavors.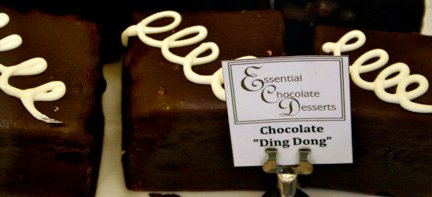 Location:
Essential Chocolate Desserts boasts two great locations here in Los Angeles
The Westside Pavilion location & Culver City Bakeshop are central to Angelinos looking for local socially conscious sweets and treats. Mail and internet ordering is also available if you don't want to leave the house, but a visit to the shop will give you the entire Wonka experience.


About ECD:
Melissa Sanders and team from E-C-D have been making waves amongst the pastry community with their signature Gourmet Ding Dongs, Moon Pies, Cupcakes, and Brownies just to name a few. From catering weddings and LA events they also offer local retail and internet orders. Stay connected to their facebook events page for upcoming summer tasting events at both stores.


Menu:
Ding Dong Flavors. From Basic to Extreme! Listed below in order of consumption:


-Traditional Chocolate and Vanilla(Throwback to the OG ding dong)
-Espresso
-Orange poppy
-Coconut
-Tropical


With so many flavors in my mouth all flavors deserve applause with my favorites being the classic ding dong and the tropical pineapple upside down cake version(a perfect summer flavor).
Recap:


Keep informed to hear about more great tasting events from ECD. Reserve online or show up in person because you will not want to miss out. Essential Chocolate Desserts is the ultimate pastry boutique for Angelinos seeking a little something different than your average cupcake.


Contact:


Essential Chocolate Desserts at the Westside Pavilion
10800 Pico Blvd., Suite 167 (1st floor, across from Forever 21)
Los Angeles, CA
310-446-2181
Essential Chocolate Desserts at the Culver City
10868 West Washington Boulevard
Culver City, CA 90232
(310) 287-0699