Street Tacos and taco trucks are synonymous with Los Angeles, so why not combine Mexico's national alcoholic beverage: Tequila with Street tacos from a taco truck featuring recipes infused with Familia Camarena 100% blue agave Tequila . As if there couldn't be anything better than that, this truck operates completely not-for-profit. The team behind this mobile venture want guests and patrons to try the pure essence of their product by providing a "substance free" epicurean experience to Angelinos all over the city for the next few months.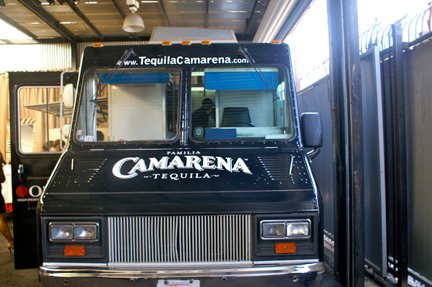 The truck is also complete with Celebrity Chef Sevan Azarian(formerly of Patina and now from Recess Eatery in Glendale and at his side Chef Derek Lund. This dynamic duo ties together this innovative marketing collaboration between chefs, spirit vendors and mobile food enthusiasts,truly is a recipe for success.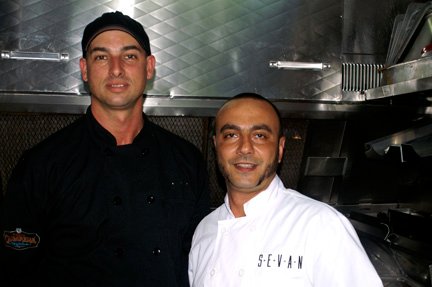 The Camarena Tequila Taco Truck Launch Party took place this past Sunday at High Profile Productions in Culver Cities "Gallery Row". We were guests of Josh Levine from Rebel Industries for this "Free" invitation only event. Fans of tequila and taco trucks all lined up outside, but there was not a truck in sight or at least it appeared that way to the naked eye. Once inside the gallery space was transformed into hip upscale lounge complete with multiple tequila bars, live screen printing from inked in tees and so much more. Read on, but be warned that further reading may cause you to salivate!
Entertainment:
Live Latin mashed-up sounds were provided by celebrity LA DJ's Raul Campos from KCRW and Kid Gusto from True Grooves as well as the Camarena Tequila Taco Truck's on board bumping sound system courtesy of Orion Car Audio kept the line bouncing to the beat and calm with anticipation of taco bliss.
Swag:
We were treated to custom live screen printed tees from Inked in tees available in two versions. Think about Inked-In-Tees for your next event! We will be rocking our tee all summer along with our Meex graf-edition VivaLAfoodies trucker.
Drinks:
The beverage menu had something for everyone. From Reposado(Oak aged for 60 days) to Silver Tequila with soft and smooth sweet vanilla notes available straight up or mixed up in the form of Tequila Sunrise, Pomegranate and traditional on the rocks.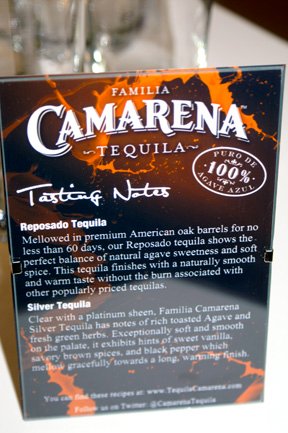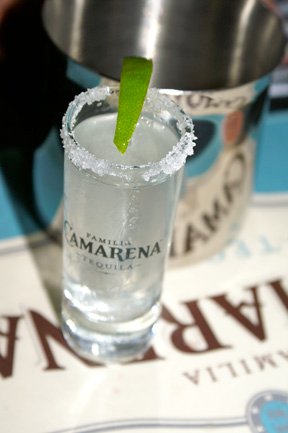 Camarenitas Burritos and Tacos:
Drum-roll please: the gourmet tasting menu featured the following highlights from Chef Sevan Azarian kitchen. All street inspired small bites were packed with mucho sabor and took the portable forms below: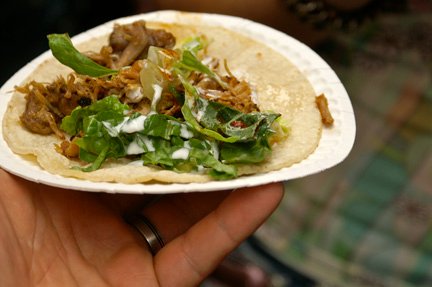 Camarena Chicken Tacos with onions, cilantro, Mexican crema and salsa verde
Camarenitas Burrito with shredded carnitas, rice and beans
Vegetarian Tostada piled high with re-fried beans, shredded romaine, crumbled cotija cheese and salsa roja."
All bites hit the sweat spot and the tequila infused tacos kept us all wanting more.
Dulce/Deserts:
Alas, we meet again. I have recovered from my Cupcake Challenge coma and was once again"delighted", this time with my Tequila infused cupcakes from My Delight Cupcakery.
With an arsenal of confectionery ammunition some of my favorites were the Spicy Mango(cake infused with Camarena Tequila and frosted with Tequila infused mango mousse and topped with a chili mango. Not only an ode to Mexican street candy but a great compliment to the days menu. Tequila Sunrise(orange cake infused with Camarena Tequila and frosted with smooth orange tequila butter cream and Coco-Loco (coconut frosting and tequila) rounded out the selections.
It's all in a "daze" work. We sampled, tasted, sampled did some more tasting and soothed all of our cravings from Savory to Dulce. Besides Familia Camarena 100% blue agave tequila tasting amazing in its pure form, this culinary mash-up provided me with a different perspective on the drink and recipe enhancements that Tequila provides. I had never thought of it as such a great ingredient, but have been persuaded. Thanks Camarena and crew for having VivaLAfoodies and making my Tequila & Taco dreams a reality!
Check out our friend "Snake eyes sippin on a tequila sun rise"