Eddie Sell, age: 38
Chef/Owner: Firehouse Chefs Food Truck
We recently had the pleasure of catching up with Chef Eddie Sell from the Firehouse Chef's Food Truck on multiple occasions between a firehouse in Long Beach, California to the streets of Downtown LA on a promotional tour and Charity Stair Climb event benefiting the YMCA and sponsored by the new NBC firefighter television drama, Chicago Fire.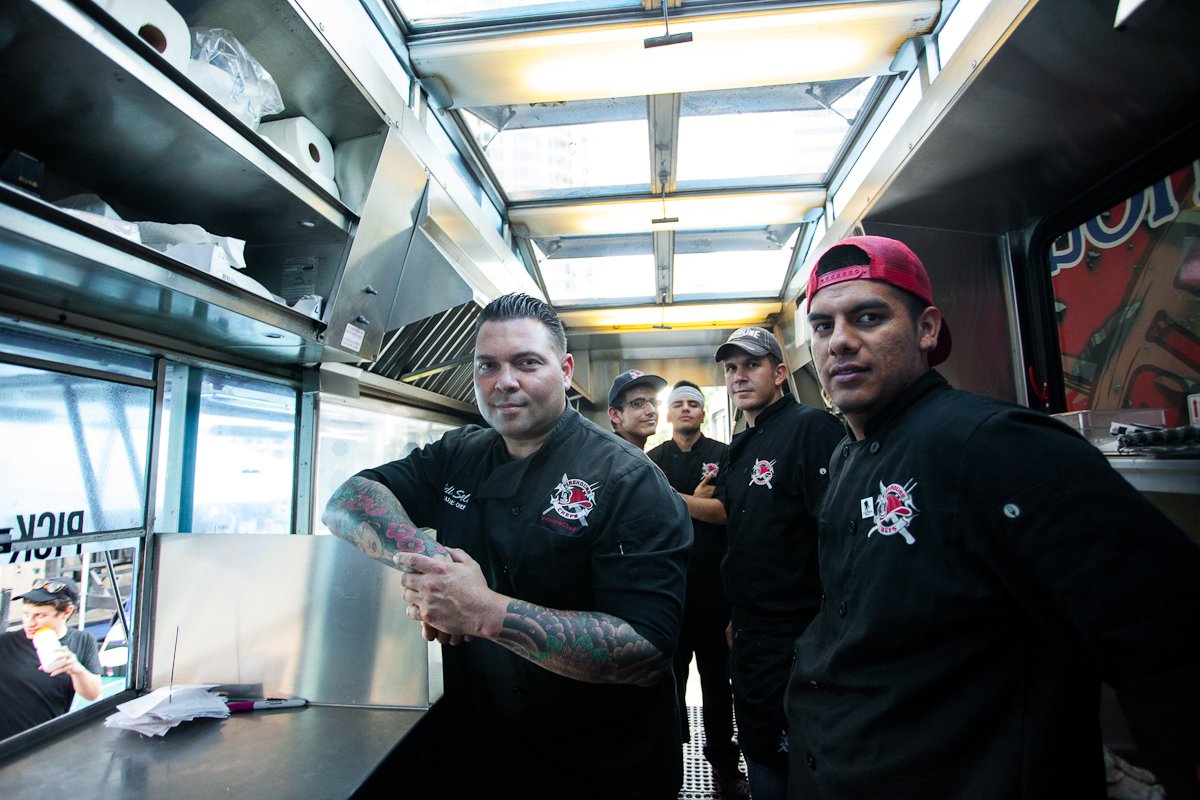 The show is not far from Eddie's day-to-day routine that encompasses two converging careers as firefighter and chef and all of the entrepreneurial functions that go with the territory that have become a part of Eddie's reality. You never know where you will see Eddie next but we know it will be hot and he will be on the front-lines. Check out our chef interview Q & A and read all about what makes Eddie tick.  
Culinary Background & History
VLA: Which chef or chef's do you admire most?
ES: I like the cooking style of Chef John Sedlar Rivera, Chef Rivera owns Rivera restaurant in Downtown Los Angeles.  Chef Rivera is also known to be a pioneer in southwestern style cooking. I had the opportunity to work alongside Chef Rivera at a cooking event in Santa Monica several years ago and he had some nice things to say about my dishes which I appreciated.  In the celebrity chef world, I enjoy watching Michael Chiarello, Michael Symon, and Chuck Hughes.
VLA: What did you want to be when you were growing up?
ES:  I wanted to be a fireman and I'm blessed to have fulfilled that dream.
VLA:  What was your inspiration for getting into the food game?
ES:  As a kid growing up I was interested in what my Mom did in the kitchen. I noticed how show would be frugal at her shopping habits but be able to create delicious meals that came from the heart. That inspired me at a young age to start cooking for myself and learn how create dishes by opening up the fridge and seeing what my ingredients were.
VLA:  What was your first job in the food industry?
ES:  Good ol' McDonald's.
VLA:  If you were trapped on a deserted island and could only have one tool from   your knife-kit and one dry storage item, what would they be?
ES:  The tool of choice would be my Shun Santoku knife.  Having this would enable me to hunt my prey, fillet my fish, cut my wild greens, and of course open coconuts. The one dry storage item would definitely be sugar, so I can add a hint of sweetness to the exotic ingredients found on the island.
VLA:  What was your favorite food or food experience growing up?
ES:  I love being exposed to the Latin side of my family and the flavors from Mexico my Mom brought into our kitchen.  I remember my Mom almost morphing Mexican and American cuisine to make everyone's taste buds happy.
VLA:  What spice can you not live without?
ES:  Kosher Salt. I feel like salt is under utilized in cooking sometimes and it enhances so many ingredients, savory and sweet. Salt is also a preservative and can be handy in case of the apocalypse.
VLA:  What is your biggest culinary guilty pleasure, something that other chefs would maybe frown upon?
ES:  I don't believe in cooking with rules. I enjoy being able to create things and using multiple cooking techniques simultaneously.
VLA:  What is your favorite meal to have cooked for you?
ES:  I enjoy a good quality steak, simply seasoned and cooked medium rare, paired with many different sauces. I'm also a big fan of In-N-Out burgers.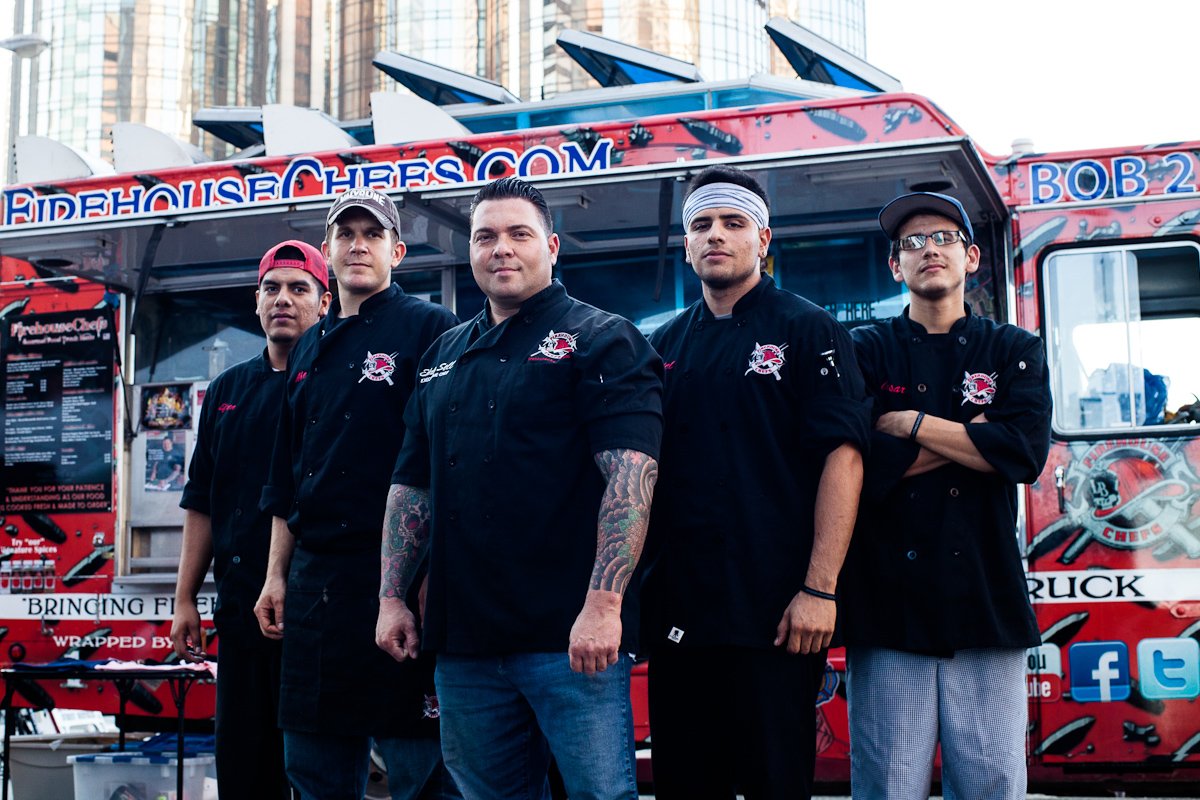 VLA:  What was or still is your biggest challenge as a chef?
ES:  My biggest challenge as a chef is acceptance from other chefs due to my primary profession as a firefighter. I have worked very hard over the years to keep up on cooking techniques that I learned in culinary school. Throughout the years, I have cooked for an Admiral in the Navy aboard ships and firehouses across California, establishing my catering business, and restaurants, and now on my gourmet food truck.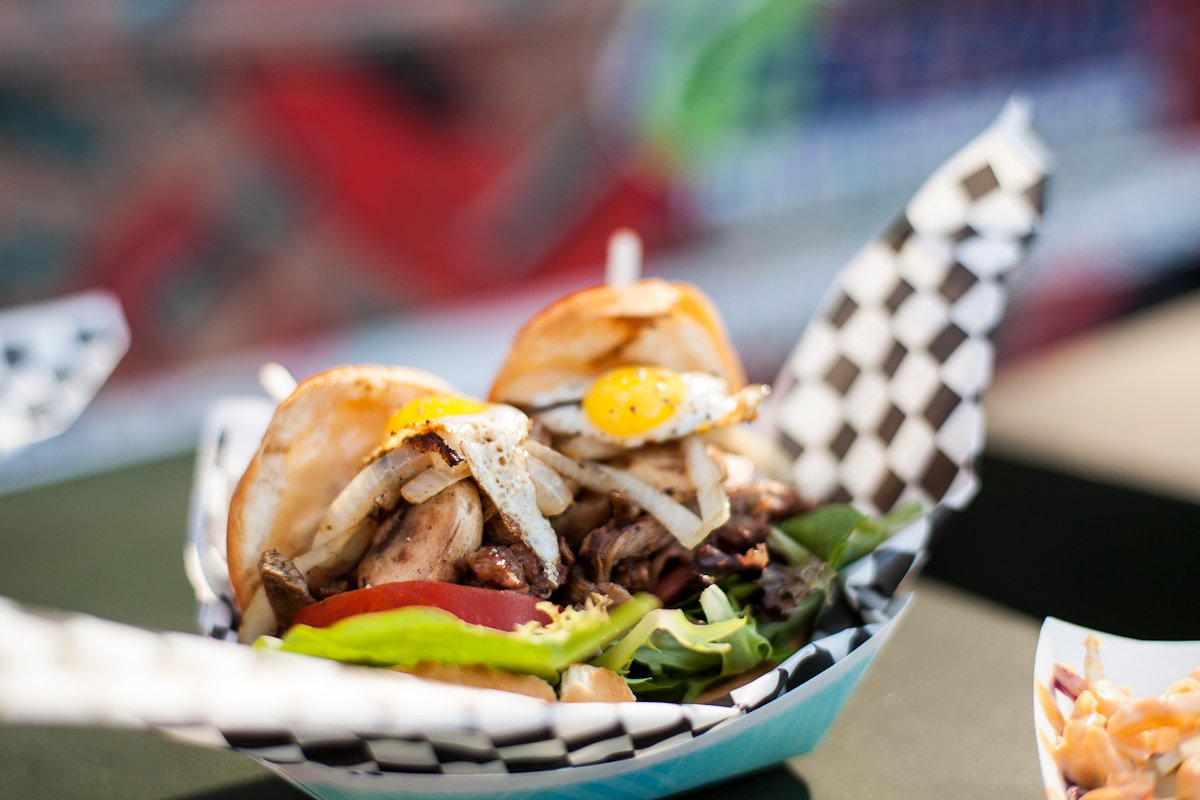 VLA:  What is your fantasy career (i.e. rock-star or jet pilot)?
ES:  I feel like I'm living my fantasy career since I'm both a firefighter and a chef. Once I open my own restaurant, I will truly have fulfilled a long time fantasy.
VLA:  When did you know you were meant to be a chef?
ES:  At the age of 17 while in culinary school, I recognized early that I had the ability to make people feel happy while eating the food I prepared.  After taking all that in I felt motivated to continue to learn even more and enable people to experience comfort food that's prepared with care and love.
VLA:  What made you decide to make the Firehouse Chef Food Truck a "Reality"?
ES:  I created FirehouseChefs.com in 2008 in an effort to get my TV show concept on the air. Since then, FHC has expanded to include a catering business, spices & sauces line, fitness/wellness component, thousands of fans/supporters & a network of great Firehouse Chefs around the country. I felt that starting the Firehouse Chefs Food Truck would be the best way to get my 'Firehouse Fusion Food' to the streets of Southern California. Luckily for me, two veteran, retired fire chiefs believed in my vision and became investors in what has now become Firehouse Chefs LLC.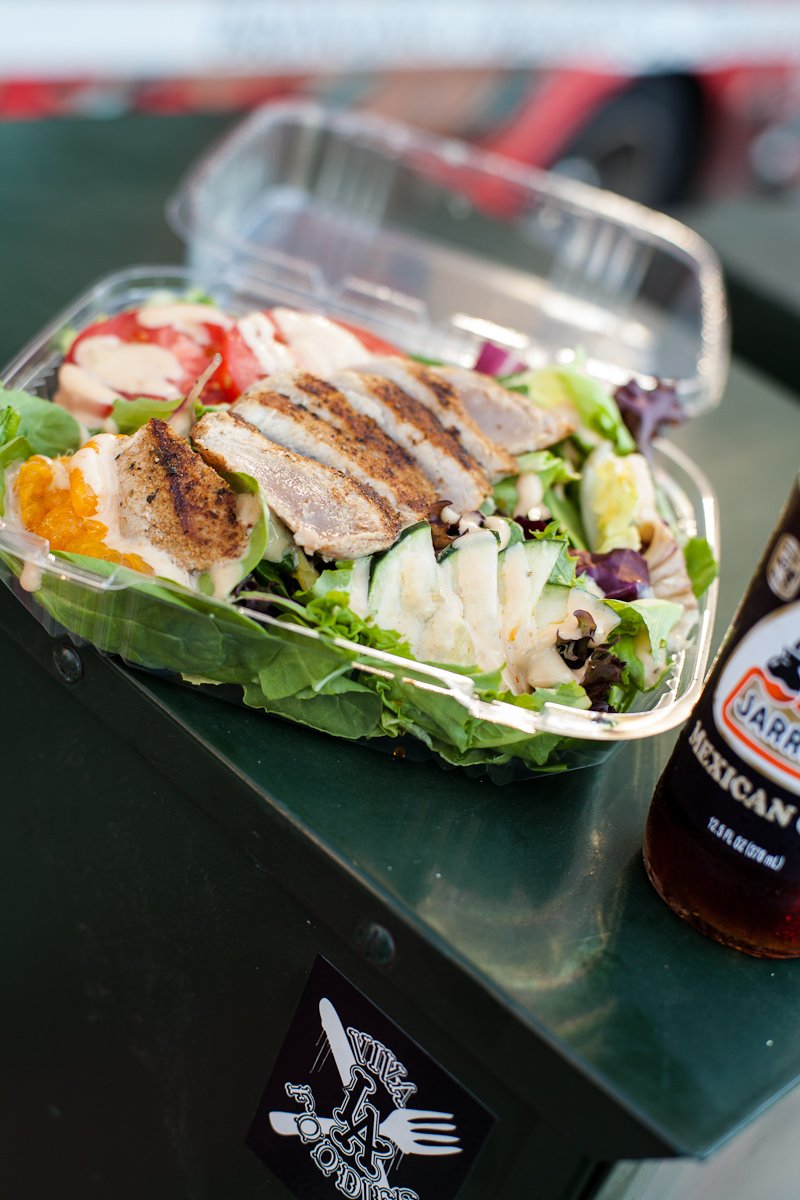 VLA:  What have been some of the biggest challenges between running a food truck and being a Fire Captain?
ES:  Being a Fire Captain is like being an Executive Chef. I have to manage time, be a leader, be a mentor, train my team in each field, and deal with customers. Moreover, always strive to improve and grow as an individual to enable both careers to coincide and expand.
VLA:  What's next on the horizon for you and the team?
ES:  I am in the process of putting together a business plan to open a restaurant in early 2013. In addition, I am arranging my investors, permits, layout/design, and other related things. My Firehouse Chefs Team has over one hundred years of fire services experience and over 50 years culinary experience.  Having an amazing blend of fire fighters and chefs has given creditability to my Firehouse Chefs project and infuses the recipes and family secrets of America's firefighters.
THE INK/ Tattoo Story
 VLA:  Do you feel your body art defines you as a chef?
 ES:  Not at all. I am just a chef that's heavy tattooed.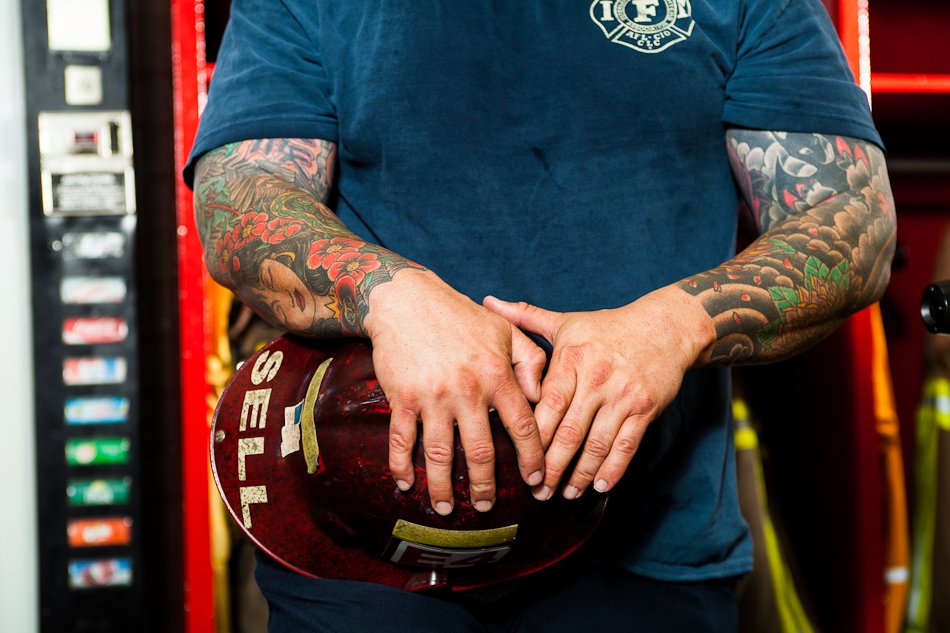 VLA:  When did you get your first tattoo and what was it?
 ES:  I was 14 yrs old and a friend tattooed my right upper arm in his garage. The tattoo was my name "Eddie" and it didn't go over well in boot camp. So it also became my first cover up.
 VLA:  What style of tattoo art do you gravitate towards? What is your favorite genre?
 ES:  I have a collaboration of Latin inspired art and Asian infused charactures. I have pieces that include Day of the Dead, dragons, bats, skulls, and flowers.
VLA:  What does your mother think of your tattoos?
ES: My Mom works at a Catholic Church. Any further questions?  To this day I still wear long sleeves shirts in respect around my Momma.
VLA:  What is your next tattoo going to be?
ES:  Most of my tattoos contain different milestones of my life. Therefore, I would love to have my next tattoo symbolize my long term goal of opening my restaurant.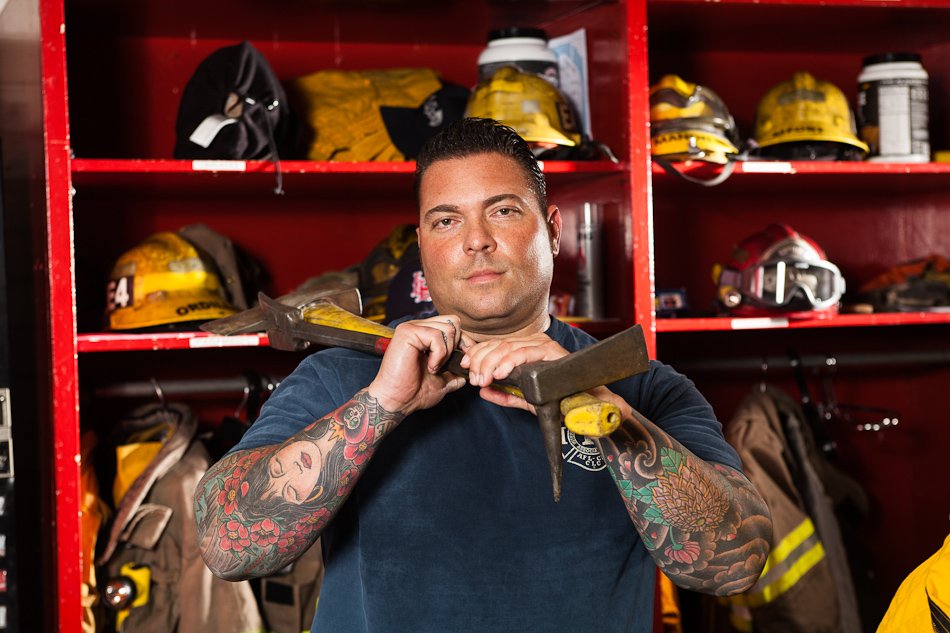 VLA:  How has having tattoos affected you culinary career, positively and or negatively?
ES: As a chef it has no baring whatsoever, because people tend to view chefs as artists.  On the other hand as a Fire Captain the question of whether or not tattoos look professional is something I deal with on a daily basis.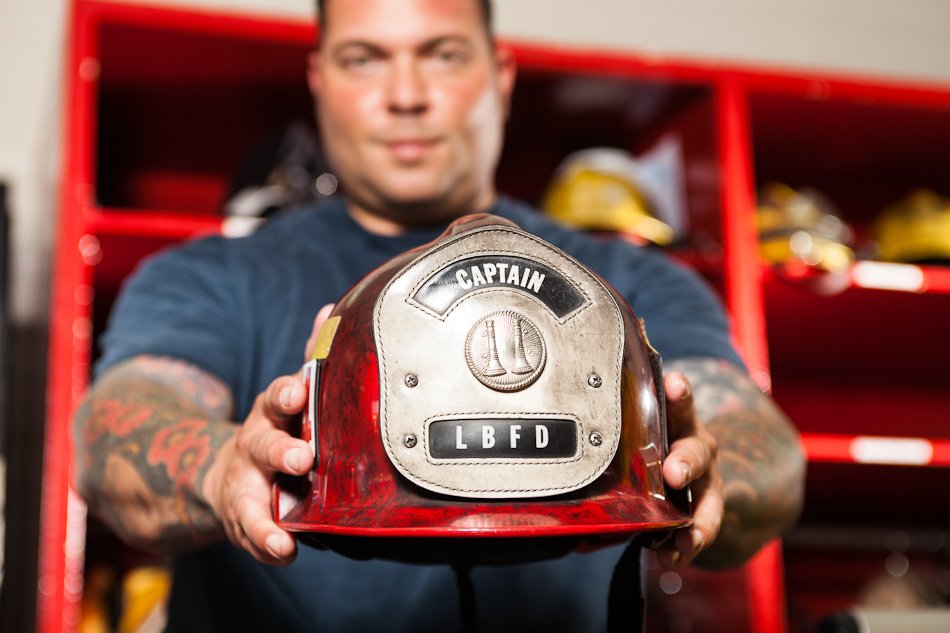 Photography produced and provided to Viva LA Foodies by Zach Schueller Photography. All images are copyrighted and property of Zach Schueller.