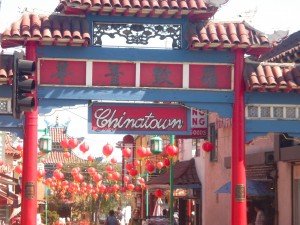 Dim Sum always seems to come up in conversations with devoted foodies and a previous conversation with a fellow food blogger was the beginning of my epicurean excursion to Chinatown in Los Angeles. After discussing several of the top Dim Sum establishments in the Chinatown vicinity we both conquered that the Empress Pavilion would be the site for this journey.
It was a Thursday afternoon around 12:30 and after figuring the tricky downtown parking scene I arrived at Bamboo Plaza on Hill Street and was smelling amazing scents of culinary delights. To my surprise, after parking across the street, I found out that the Empress Pavilion validates for the Bamboo Plaza parking structure. In any event, I was happy that I arrived and we were seated right away.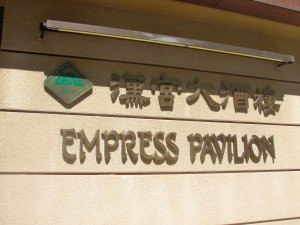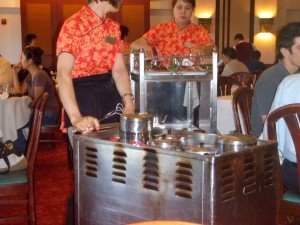 Carts were hustling and bustling throughout the restaurant like rush hour on the 101 freeway and the clanking and crackling of stainless steel steamers meant that a bountiful selection of Dim Sum was soon to arrive. Before we could say stop, Pork Bau, Shumai and Shrimp Dumplings were strategically placed on our table and our order card was stamped with all kinds of colorful impressions.


After pouring traditional hot tea for one another, we dove into the bountiful "little presents" lay-ed in front of us. All items are meticulously prepared and cooked to perfection at Empress Pavilion and the carts offer plenty of variety for the most discriminating guest. With a nice blend of savory and sweet items we both left satisfied even down to the last piece. You will not be disappointed by the food or the prices. For $20.00 you will have more than enough to eat like a King or Queen.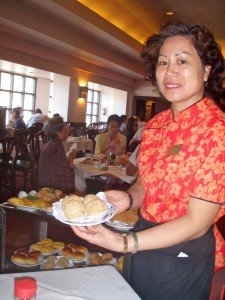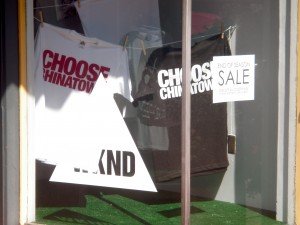 Empress Pavilion
988 N Hill St # 201
Los Angeles, CA 90012-1750
617-9898
http://www.empresspavilion.com/