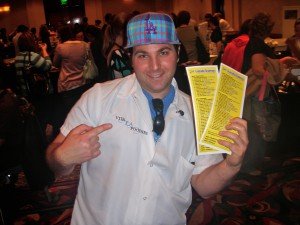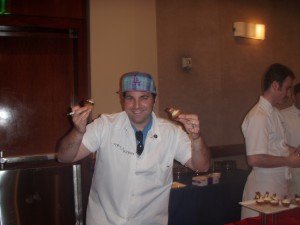 It was a war of the pastries and drink:eat:play challenged Los Angeles' top bakeries and cupcake boutiques to a battle to determine who would win the best cupcake in LA. The staging area was the Renaissance Hollywood Hotel and the scene was straight out of Willy-Wonka with the exception of a wandering Nesquik mascot that took the place of "Umpa-lumpas" although meager in comparison.
Hundreds of cupcake admirers and fanatics made it out to the event on a quest to taste the trophy cupcakes that were in the running for the crown. Bakeries entered into the "Best Traditional" category as well as "Best Original." Both categories were flooded with entries and all had quality entries. We treated our "Cupcake Challenge" official ballot like it was government issued and we diligently went from table to table examining each bite sized specimen like lost artifacts from the Pharaoh's Egypt.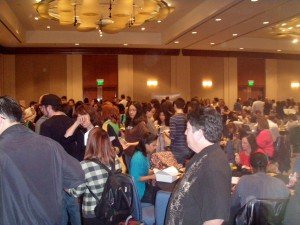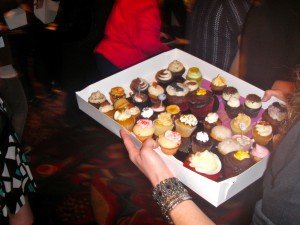 Throughout the day, we had many favorites but only a few made the final cut in our book. These cupcakes had all made an impression on our senses Our favorites were all a toss up and narrowing it down was not an easy endeavor. The choices are below and later we will see how everyone voted.
Best Traditional
Big Man Bakes-Carrot Cake Cupcake
Two Parts Sugar-Vanilla Throwback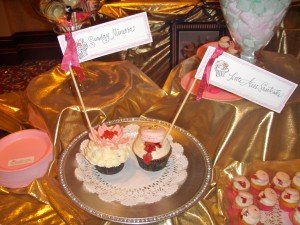 Best Original
Hollywood Renaisance-Maple Bacon Cupcake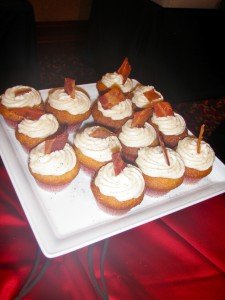 Friandise-Sticky Chocolate pudding
Fairy Cakes-Pumpkin White Chocolate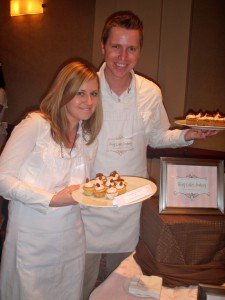 My Delight Cupcakery-Key Lime
Two Parts Sugar-Chocolate covered strawberry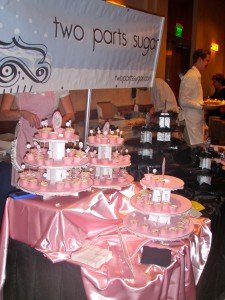 Best Overall
Hollywood Renaisance-Maple Bacon Cupcake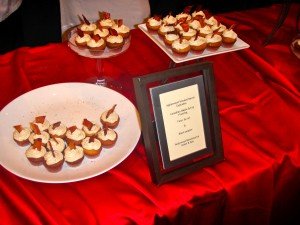 After all of the sugar that we ingested I was sure that I would have to have my stomach pumped, but lucky for me and the rest of the VivaLAfoodies crew we didn't have to exercise that option, instead we opted for push-ups and treadmills along with a few beers. The official winners are listed below for each category.
Best Traditional
1st Place: Big Man Bakes "Red Velvet"
2nd Place: Blue Cupcake "Sweet and Salty Vanilla"
3rd Place: Southern Girl Desserts "Red Velvet"
Best Original
1st Place: My Delight Cupcakery "Breakfast Cake"
2nd Place: Jus Minis "Caramel Banana"
3rd Place: Two Parts Sugar "Chocolate Covered Strawberry"
Best Overall
1st Place: Jus Minis "Caramel Banana"
2nd Place: My Delight Cupcake-ry "Breakfast Cake"
3rd Place: Two Parts Sugar "Chocolate Covered Strawberry"
The event was like nothing I had ever seen before and far exceeded our expectations, but then again, all Drink:Eat:Play events keep getting better and better. These events are not for the weak heart-ed so understand "D-E-P" means business, "Go Big or Don't go at all" So as I wrap it up, lets all put our hands up in the air and give a round of applause to Dan Silberstein for making all of these great events possible and accessible to Angelinos.