We've all walked into a Chinese restaurant in our neighborhood. We have their take out menu in a drawer somewhere. We call on them to provide us with "Chinese food" that we have come to know and love. Orange chicken, beef with broccoli, shrimp with some sort of sauce, overly crispy eggrolls with non-descript filling. I tend to more refer to this as "American food". No different than ordering a burger and fries.
On this day I was in search of actual Chinese food. Chinese ingredients prepared by people from China. Cooking food as only they know how, from the specific region of China that they grew up in. The food that their grandma made for them. The flavors they have known since infancy.
Szechuan Impression in Alhambra was the exact meal that I would expect to eat if I had just landed in Chengdu after a 13 hour flight and needed to fully submerge myself in what Chinese food is all about. Here nothing is battered. Nothing is deep fried. There are no non-descript sauces taking away from the texture or flavor of fresh ingredients.
When you walk through the door of Szechuan Impression you know right away that this meal will be nothing like your neighborhood joint. Sichuan cuisine has been around for centuries. You think of classic, typical, repeated food. Not here! The founders of Sichuan Impression came to the States to bring a contemporary style of their classical dishes from China.
We started our meal with the Impressive Cold Noodles. Similar to a chow mein noodle tossed with a not too spicy red chili sauce. A great way to start the meal with subtle flavors to tease your palate.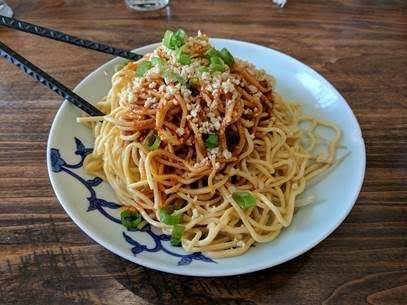 The Sliced Sausage turned up the heat slightly. This pork sausage has a great texture with the snap of the casings and the perfectly cured meat.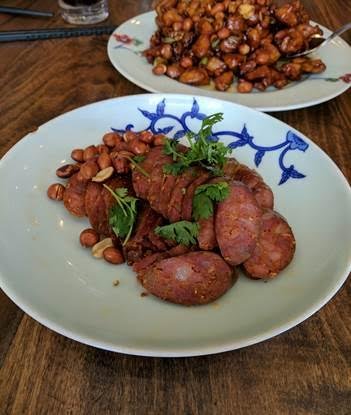 A dish that everyone is probably a little more familiar with, Kung Pao Chicken. Seared chicken bites mixed with peanuts, green onion and chili.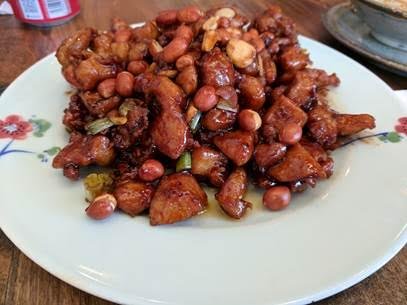 The Tea Smoked Ribs are fall of the bone tender. Think of the best ribs you have ever had at a BBQ pit minus the sticky mess of sauce. Just juicy, tender and perfect.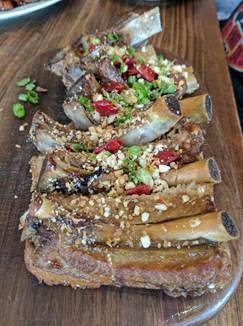 In the Sichuan region fried bits of meat on toothpicks is common. Here they do their version with Cumin-Crusted Fried Lamb Bits. A perfect little bite of intense texture in between the ribs and dumplings.
The Wonton Chicken Soup is far more complex than this basic description. The broth is layered with flavor. The bowl is overly filled with plump, soft wontons.
The Dumplings in chili sauce seemed to be toned down for our table. Delicate steamed dumplings tossed with red chili. Don't be scared to go for the heat with these!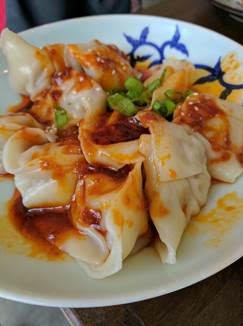 There are no fortune cookies to speak of here. Desserts are more palate cleansing, nothing crunchy or overly sweet. Fried lozenges of rice cakes are sprinkled with soy powder and drowned in liquefied black sugar. A very Chengdu traditional treat.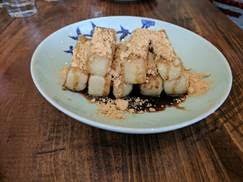 And for something even a little less sweet there are the Cinderella Pumpkin Rides, pounded pumpkin until the feel of a chewy dumpling and lightly fried to a delicate crispiness.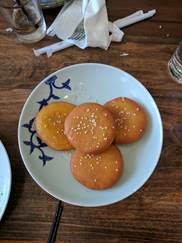 I have now thrown away those old take out menus.
Article guest written by Blake Pick from Restaurant Hopper for Viva LA Foodies
GET SOCIAL:
Szechuan Impression
1900 W Valley Blvd
Alhambra, CA 91803